I can remember as a little boy being fascinated with my Dad's tools. He's talented when it comes to woodworking so I had the opportunity to watch him firsthand use those tools to build some really cool stuff, like a marble roller. (It's much cooler than it sounds and that woodworking masterpiece provided hours and even years of entertainment.)
My parents even bought me a kid's tool belt with a plastic hammer and screwdriver that I could wear as I "assisted" my dad on those projects. You may have had one like it.
Tools are important to any project, whether that be woodworking or leadership. If you don't have the right tool or don't know how to utilize the tool correctly, your leadership will suffer and will not be as effective as you would like it to be.
I've seen too many well-meaning leaders who have the vision and passion for leadership, but don't take the time to assemble and learn the tools they need to maximize their leadership potential. Most of the time these tools are not sexy, but they are vital to a leader's success.
So over the next two weeks, I'm going to open up my personal "toolbox" and show you some of the practical tools, programs, and apps I use on a regular basis that help me be an effective leader, small business owner, husband, and friend.
Today, I'm focusing on productivity.
Productivity 101
I'm a self-proclaimed productivity nerd. My goal is to be efficient with tasks so I can be effective with people. I wouldn't be able to be efficient if I didn't have productivity tools to help me remember tasks, minimize the time I spend on email, and serve as a catalyst for getting things done.
Maybe you're new to this topic. Maybe not. But before I dive into these tools, let me give you a crash course on productivity. Productivity 101, if you will.
The most influential resource for my productivity is David Allen's book Getting Things Done. Here are some of the basics:
There are three basic avenues for effective productivity:
Inbox: Any avenue that collects information (email, physical mailbox, text messages, etc.)
Project/Task Management: The place where you actually get the work done (checklist on a piece of paper or something more complex like a digital task management system)
Filing System (Reference): The place where you store information to retrieve later (physical filing cabinet, notes app on your phone, etc.
These three avenues or systems need to communicate efficiently, and ideally you want to be able to move information and projects seamlessly through each one.
The reason you need three distinct systems is because each one has different strengths. Your email inbox is a great place for communicating and receiving information but it doesn't make a good project/task management system because you can't prioritize those emails or tasks very easily. In the same way, your project/task management system isn't a good filing system because you want to be able to "check off" or delete projects and tasks once you complete them, so you are only seeing what needs to get done. (Who doesn't love the feeling of checking something off a list?)
This chart from David Allen shows how these 3 systems work together: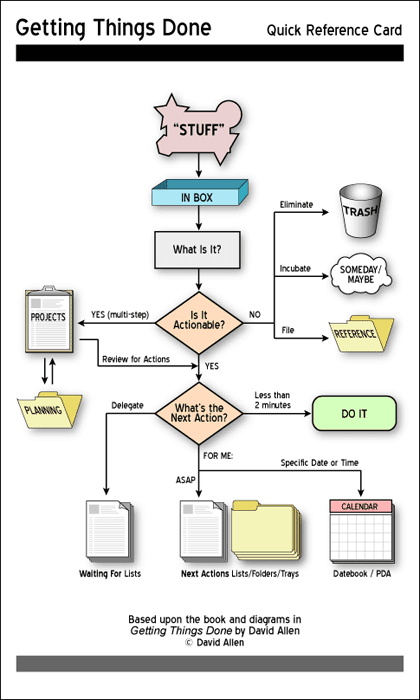 Now that you know my productivity philosophy (aka David Allen's), here are the two apps I use the most for helping me stay productive:
Nozbe is my task management system. My favorite aspect about Nozbe is that it's simple to use. You can start using it after only 5 minutes of downloading it/setting it up. Yet it doesn't lose its power in its simplicity.
Here are some other aspects I like about Nozbe:
Inbox (Emails and Text Messages): I can forward emails directly into Nozbe and create a task right from my email inbox. (I can also take screenshots of text messages that I need to respond to and upload them directly into Nozbe.)
Priority: Nozbe easily lets me create projects and then tasks underneath those projects. I can "star" them, which automatically puts those tasks on my priority list. Then, I can sort those priority tasks and put the highest priority at the top.
Calendar: Nozbe syncs with my Google Calendar so any tasks that have specific due dates automatically sync to my calendar.
Categories: This is probably the most powerful feature in Nozbe. I can create a customized "category" list and then assign categories to each task. I can also filter my priority list based upon that category. For example, let's say I'm about to get in my car and run some errands. That is prime time for me to knock some tasks off my list (redeem that time in the car.) I can filter my priority list with the category "phone" and this shows all of the phone calls I have to make. Perfect – now I know what I can do while I'm driving. Or, let's say I sent out 20 emails and now I'm wondering who hasn't replied back. I can filter my list by "waiting-for" and see all of those emails. I can quickly follow-up on those emails with the filtered list.
Evernote is my digital brain. I use it as a filing cabinet, project management system, and content calendar for my blog. Again, I value simplicity, which is why I use Evernote. It can be used in a matter of minutes after downloading. (And they have a free version so you can test it out before deciding if you want to pay for their more robust features.)
Here is why I like Evernote:
Inbox:Just like Nozbe, I can email directly into Evernote. If I receive an email with some key information from a client that I want to remember, I can directly send it from my inbox. Or if there is an attachment that I want to save I can shoot that over to Evernote.
Digital Filing Cabinet: Evernote lets you create "notebooks" that contain multiple "notes." Think of notebooks like a file folder and notes like the actual files inside that folder. With Evernote, I can put text, pictures, videos, and audio files all inside a note. What makes Evernote really powerful is its search function. You can take a picture or screenshot of a quote and Evernote can read the words of that quote from your picture. Amazing!
Scanning: Evernote has a scanning feature inside the app which is great for loose paper information that you want to digitize.
Business Cards: In my opinion, Evernote is a must for business card storage. You can scan the business card in Evernote and create a digital file. Plus Evernote will create a contact on your phone if you want it to.
Tags: I already mentioned the power of Evernote's search. But "tags" make that search even more powerful. Just like categories in Nozbe, I can create a customizable list of tags and then tag notes. I use tags for helping me create content for public speaking events, training workshops, and blogging. For example, let's say I am speaking at a conference called IAAPA Expo 2020 (which I really am, by the way). I can create a tag for that conference "IAAPA 2020" and then every time I read or see something that would be great for that speaking engagement, I can create a note in Evernote and then tag it with "IAAPA 2020." When it comes time for me to prepare for my session, I can search "IAAPA 2020" and find all the quotes, illustrations, and other pieces of information for that speaking engagement.
I could talk all day about Nozbe and Evernote. (I told you I'm a productivity nerd.) But I'll refrain for all of our sakes. :)
If you would like to learn more about the apps and programs in my toolbox, check out my brand new Resources page. Here I include the productivity apps listed above, my website and blogging tools, and some of my favorite books.
Game Plan
When you think about your inboxes, project/task management system, and filing system, which one of those areas is hindering your productivity? Review David Allen's chart above and focus on one of those areas to make yourself more efficient.
Tweetable Lesson